Armani Logo
The Armani logo is hard to pin down to one design.  The Armani empire has sub-branded many other products and lines, and for each, comes their own version of the Armani logo.  Some of their sub-labels include:
Giorgio Armani
Armani Collezioni
Emporio Armani
AJ Armani Jeans
AX Armani Exchange
Armani Junior
Armani Casa
Armani is one of the most prestigious and sophisticated fashion labels in the world.  The Giorgio Armani logo is a curved "G" completing a curved "A" in a circle logo.  This Armani logo is highly recognizable all throughout the world.  The Armani Exchange logo is clean and simple, depicting the "A|X trademark".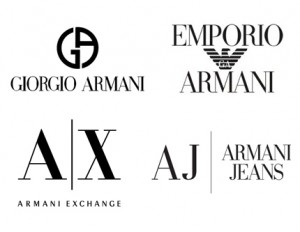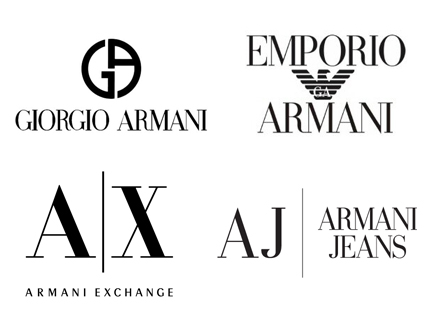 Giorgio Armani is the Italian fashion house that designs, manufactures and retails clothing, accessories, shoes, leather products, eyewear, home fashions and jewelry.  For each product or line, is a sub-label and includes their own version of the Armani logo.
The Armani empire also has other ventures including hotels, resorts and cosmetics.
Giorgio Armani was born in 1934 and founded his company in 1975.  He is known for being the most successful fashion designer to come from Italy.  His personal fortune was worth 7 billion dollars, as of 2011.
Interesting facts about Giorgio Armani include:
He was in medical school for 2 years and was called to work in a military hospital, where he decided to change career paths.
Armani was the first fashion designer to ban models with an unhealthy BMI (Body Mass Index), which is less than 18, due to the eating disorders in the industry.
Giorgio Armani is very interested in sports and has designed outfits and suits for many athletes and Olympic events.