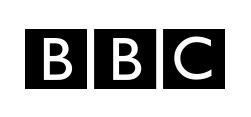 British Broadcasting Corporation, more commonly known as BBC, was based in UK as a broadcasting conglomerate and has verified to be the world's prime broadcasting corporation over the years. BBC employs around 28,500 individuals in United Kingdom with an annual budget of £4 billion or $8 billion. It is the most governing broadcasting corporation that produces programs for television, radio and the Internet. It is recognized all over the globe with the help of its notable and impressive logo design.
The evolution of BBC logo starts in 1950s when different emblems were adopted for several BBC channels to form individual identities for them. These emblems initially gripped to sober colors like black and white. But, as the years passed by, the design elements were transformed whereas the colors remained unaltered depicting the same professional and bold corporate portrait. Separate BBC channels occupied individual insignias to represent the nature, personality and character of the respective channels. BBC logo has stood in the line of the world's most professional logotypes which narrates the corporation's strength, authority and class.
Design Elements of BBC Logo:
The original BBC logo is the best example of logotypes which defines the corporations at their best. Primarily, BBC logos were designed with an Italic typeface and they performed admirably for a noble period. However, in 1997 the BBC logo was refurbished reflecting a more strong and bold image for the corporation and its programs. On October 4th 1997, all BBC logos were to be presented in this new style.
Shape of BBC Logo:
The new BBC logo is captured graciously in a set of three square structures, with corporation's initials inscribed independently in it. The squares in the BBC logo are innovative and translate the company's production pace in the modern world. The shape instantly explains the company's intended goal and restricts the array of guidelines magnificently.
Color of BBC Logo:
Black is the paramount color to project power, integrity and authority. Hence, the BBC logo is tinted in black hue to spread the company's target that is to accomplish the best commercial image with excellence of its programs. Black shade offers the BBC logo optimistic liveliness and makes it stand out.
Font of BBC Logo:
BBC logo is featured in the superlative bold typeface to portray its prerogative attitude and supremacy. Gill Sans font is employed for the representation of the initials in the BBC logo. The particular font enables the BBC logo to protrude and dwell in picturesque appearance.