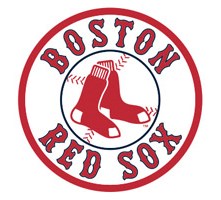 The Boston Red Sox, the member of the Major League Baseball's American League Eastern Division has its roots in Toledo, Ohio, 1912. The current team name, Red Sox, is based on an old-fashioned form of plural socks and was implemented in 1907 by its owner John Taylor.
Red Sox has been a leading team in the new league since the 20th century starting off in 1903 by defeating the Pittsburgh Pirates in the first World Series and won four more championships by 1918. Later the team went into one of the longest championships in the baseball history which ended in 2004 when the team won their sixth World Series Championship. The Boston Red Sox have competed in four ALCS since 2003, have won two World Series, and have become known as arguably the most successful MLB team in the history.
The standard uniform for the team has been in use since 1979 and is white with red piping around the neck also including "RED SOX" printed in red letters and outlined in blue. One alternate home uniform jersey is also red worn with white pants and "RED SOX" is put on view across the chest in blue letters outlined in white.
Design Elements of the Boston Red Sox Logo:
The famous "Hanging Sox" logo was first seen on the team's uniform in 1931 and is used even today as its primary logo now with slight changes in the color and resolution. The "Circle Sox" logo which is now redesigned will serve as the team's secondary logo.
Shape of the Boston Red Sox Logo:

The logo shows an image of hanging pair of socks basically reflecting the American baseball team's brand identity and brand equity.
Color Of the Boston Red Sox Logo:

The pair of socks in the Red Sox logo is red and white in color showing the team's spirit and urge to excel in its game performances.
Font of the Boston Red Sox Logo:

Red Sox secondary logo uses a Tuscan lettering giving it a very 19th century look.