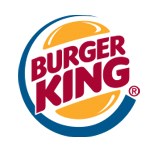 Burger King forms one of the leading food chains all over the world. The Burger King logo made its debut in 1967, and is still nearly what it used to look like before. It started off its base in USA as Insta Burger King by James McLamore and David Edgerton. The Burger King logo has a circular appearance with a little tilt of the fonts, plus coupled with vibrant colors. The logo design comprises of bun halves with the fonts in the middle. The journey of the Burger King logo remained smooth throughout. The early logo was with ochre colors buns with a dull blue swoosh which changed to a bright blue and finally to a dull one again. The final Burger King logo is nearly circular with burgundy fonts.
Design Elements of Burger King Logo:
The Burger King logo illustrates a tempting and bubbly picture of a fast food chain, perfect for the fast food culture among the youth. The lively colors used are catchy enough to attract people.
Shape of the Burger King logo:
Burger King logo comes as a tilted circle with bun halves on either side of the logo and the font emerging in the middle, together with a swirl underlining the complete design. It truly reflects the vibrant nature of the food chain.
Color of the Burger King logo:
The three colors used in the Burger King logo are red, yellow and blue. The beauty of the three primary colors forms an eye-catching motif just enough to attract all age groups to the ever green love for fast food.
Font of the Burger King logo:
The font of the Burger King logo is a simple one though. Red in color, caps-locked coupled by the shape, the logo is very prominent as well as attractive. The font size of the 'king' is slightly larger than the 'burger', complimenting the design in nearly all ways.
The Burger King logo, apart from being a landmark in the fast food chain recognition, is also one of the few logos that were able to maintain their uniformity to quite an extent with the passage of time. The simple, yet popular design is recognized all over among all age groups and also maintains the quality and reputation of the food chain.
Related blog post(s): The Psychology Of Fast Food Logos