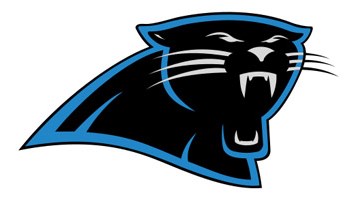 Based in Charlotte, North Carolina, the American football team Carolina Panthers, began its amazing journey in the late 1980s after the approval of a professional NBA expansion team. The team is currently the member of the South Division of the National Football Conference in the National Football League. The Panthers along with the Jacksonville Jaguars joined the NFL as added expansion teams in 1995, and in their fifteen years of existence, the Panthers have compiled a record of 115–121. The team's most notable triumph in their history of playing is their Super Bowl appearance in 2003 (only 8 years since their inception).
The team usually appears wearing silver pants with their black jerseys or most probably white pants with their white jerseys. Both the black and the white jerseys have blue stripes over the shoulders giving their sports outfit a distinctive look.
The team has a fan following of around 70,000 all over the world and is gaining more and more popularity day by day.
Design Elements Of The Carolina Panthers:
Shape of the Carolina Panthers logo:
The logo of the Carolina Panthers comprises of a panther's head. The symbol portrays the message that the Panthers are skilled hunters, pestering silently and pouncing on their competitors at the last minute. The logo of the Carolina Panthers is also said to be shaped to resemble the combined borders of North and South Carolina.
Color of the Carolina Panthers logo:
The head of the sneering panther shown in the Carolina Panthers logo is black and silver in color outlined in blue. The color used show the football team's power and desire to excel in their performances.
Because of the message it tries to convey, the logo of the Carolina Panthers is considered to be one of the best logos designed for the football sports team.