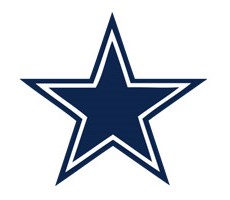 The American football team, the Dallas Cowboys (formerly known as the Dallas Steers and the Dallas Rangers), plays in the Eastern Division of the National Football Conference in the National Football League, and has made a major mark in professional football history over a span of more than forty five years now. Formed in 1960, today the team is the second most valuable sports team in North America and has an anticipated value of over 1.1 billion dollars which makes them one of the wealthiest teams in the NFL.
This fabulous football team is based out of Dallas; however they play their home games at Texas stadium in Irving, Texas. Majority of the team's victories include a total of twenty-seven winning seasons and the league record of twenty consecutive winning seasons; a record that remains constant and unchallenged until now.
The Dallas Cowboys' white home jersey has royal blue, numbers, lettering, and two stripes on the sleeves which are outlined in black. The home pants, are a common metallic silver-blue color that make the uniform stand out.
THE DESIGN ELEMENTS OF THE DALLAS COWBOYS LOGO:
The Dallas Cowboys Logo has been associated with the team since 1964 and continues still today. The logo of the team is basically an extension to the owner Jerry Jones' AFL team besides the team itself.
Shape of the Dallas Cowboys Logo:
The Dallas Cowboys logo takes the shape a star which is representative of Texas as "The Lone Star State" indicating harmony and peace.
Color of the Dallas Cowboys Logo:
The blue star in the Dallas Cowboys was initially a solid shape until a white line and blue border was added in 1964. The blue color again depicts the calm and cool attitude of the team.