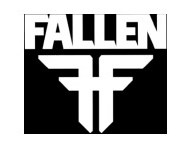 Fallen Footwear is an incredibly famous skateboarding footwear brand, launched by a professional skateboarder Jamie Thomas in 2003. Fallen offers a large variety of styles and models at low prices. Each skateboard shoe at Fallen Footwear is uniquely created using brilliant color designs and different fits. The footwear makes a great choice for anybody who is a professional skateboarder, or just a normal person who wants a high quality choice in skate shoes.
Initially it was announced that Fallen Footwear would be produced and distributed by DC shoes; however after the acquistion of DC by Quiksilver this agreement was revoked. Thomas finally decided that this project would be moved into his own company instead; they were called the Black Box Distribution.
Some of its popular footwear include: "Fallen Ripper Men's Skate Shoes", "Fallen Chief Mid", "Fallen Forte Men's Skate Shoes" and "Metal Mulisha Fallen Sandal Black Women".
By offering vast variety of attractive skateboard shoes, the owner has proved that he aims to produce high value premium skate shoes that look great and provide its customers what they demand.
DESIGN ELEMENTS OF THE FALLEN LOGO:
The Fallen logo can be classified among the best footwear logos because not only it gives the brand an immediate recognition but also sets it apart from its competitors. It successfully creates a perpetual impression on its customers through its logo.
Shape of the Fallen logo:
The Fallen logo features the brand's name along with two connected and opposite facing "Fs". These stylized "Fs" are often displayed on various footwear produced by Fallen.
Color of the Fallen logo:
The Fallen logo uses a black and white scheme which basically signifies youth, elegance and style.
Font of the Fallen logo:
The Fallen logo uses a bold font that easily attracts the attention of the audience.