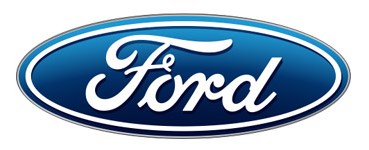 Ford is one of the biggest American multinational automotive corporations, manufacturing and distributing automobiles across six continents. It is currently the world's fourth largest automaker and is constantly making efforts to advance automobile technology. It has been into existence for more than 100 years now and has over a million loyal customers who enjoy the experience of a vast range of affordable, reliable, vibrant and unique mainstream cars that offer a considerable value for their money.
The company was founded by the legendary Henry Ford along with the Dodge Brothers in 1903. Ford named its cars using 19 most used alphabets in English. The Model T became a great hit and built a reputation the company. With the start of World War I it was producing nearly half of the cars sold in the US and is still benefiting from that success.
DESIGN ELEMENTS OF THE FORD LOGO
The last Ford logo was updated at the celebration of its 100th birthday in 2003. The new logo is known as the Centennial Blue Oval and remains respectfully loyal to C. Harold Will's (the first designer of the Ford logo) original design.
Shape of the Ford Logo:
The Ford logo is far more established and modern oval than it was in the previous years. The logo is of a size and resolution sufficient to maintain the quality intended by the company.
Color of the Ford Logo:
The new logo appears to be brighter with both lighter and darker shades of blue as compared to the previously used single shade of blue. The company has built its brand with steady and consistent use of blue.
Font of the logo:
No changes were made in the font style of the logo. It maintains the same classy and funky look as ever.
The new Ford logo seems to be working well for the company as it has become one of the most recognized car logos in the world.