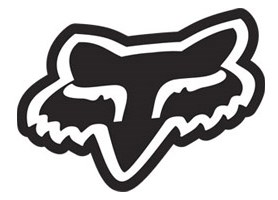 Founded in 1974 by Geoff Fox, Fox Racing is the one of the most recognized privately owned and dynamic Action Sports brands in the world, and the best selling brand of motocross attire for about 35 years now, to over 50 countries. In 1974, Bob Fox started racing his products in motocross and the Incorporation has not stopped since then. Based in Morgan Hill, California, Fox Racing puts up its formidable business by producing clothing for motocross- probably the most physically challenging motor sport in the world.
Fox Racing is branching out into surf wear and sells its products in surf shops. For over three decades Fox Racing has formed the best motocross clothing, aptly able to hold out the elements and torturous racing conditions that are an integral part of motocross.
The incorporation has a huge fan following from all across the globe that are crazy about its offerings.
DESIGN ELEMENTS OF FOX RACING LOGO:
Like many other popular brands, one of the reasons behind the tremendous success of Fox Racing Inc is its logo. The Fox Head logo is a unique blend of creativity and effectuation.
Shape of the Fox Racing Logo:
The Fox Racing Logo consists of the face of a fox indicating the company's wisdom, its focus and quick acceptance to change; the animal does justice to the image of Fox Incorporation, as it aptly conveys the intended message to its customers.
Color of the Fox Racing Logo:
The use of color black in the Fox Racing logo again justifies the incorporation's brand identity and brand equity. It shows how strong and powerful the brand is.
The best part of the brands beauty is that the fox racing logo amazingly follows up with the latest trends among teenage boys and girls that are the brand's biggest buyers.