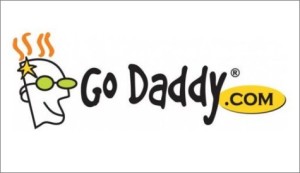 The GoDaddy Group Inc. or more commonly known as GoDaddy, is a private company that provides various web solutions such as domain registration and web hosting. The GoDaddy logo has played an important part in the company's success since it was founded in 1997. Bob Parsons, a veteran of the United States Marine Corps, was the original founder. In December 2011, Bob Parsons has passed his throne of being the company's CEO to Warren Adelman, who has been a part of the company for about 10 years.
Design Elements of the GoDaddy Logo
Most of the logos have deep meanings embedded within. Some of these meanings may lie on the color while others may be seen in the font style. But in the GoDaddy logo, it has no particular meaning to unveil, just a story to tell.
Name in the GoDaddy Logo
There's a little story behind the name of the company. The name particularly has no hidden meaning. It simply has the intention of making other people smile, laugh, and fall in love with the name. In 1999, a number of pioneers at the company were brainstorming what name would be most appropriate for the company. One employee suggested the name "Big Daddy". The problem with it was that the domain name was already purchased. Parson had a eureka moment and decided to name the company "Go Daddy". The name was still available and so the founder decided to buy it.
Drawing in the GoDaddy Logo
The drawing in the GoDaddy logo was never intended to be the company's trademark. Bob Parson asked a designer to make a design that would match the name of the company. All the submitted designs were not able to suffice Parson's specific requirements. One night, the designer and her daughter tried drawing some things in the computer and were surprised that the outcome aptly fits GoDaddy. Thus, it ended up being the company's official logo – the GoDaddy guy with shades and star in his forehead. Some have been asking whether the logo is an animated version of Parson and he said that it was never intended to be a caricature of him at all.