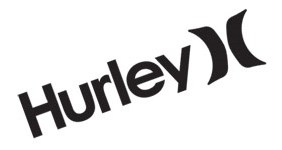 Hurley International is a popular American company that sells a large variety of athletic shoes, apparel, sports equipment and accessories. Its origin dates back to 1979, when it was formed by 23-year-old Bob Hurley (with partner Bob Rowland and Business Manager Joe Knoernschild) as Hurley Surfboards/International Pro Designs (I.P.D.). Mr. Hurley initiated the brand with the idea of facilitating the dreams of the youth.
Hurley worked as a surf board shaper for a period of 5 years for many companies; including Lightning Bolt; Wind-an-Sea and Wave Tools. As one of the debut shapers in Southern California, Hurley formed Billabong USA in 1983 after licensing the U.S. rights to the up-and-coming Australian surf brand Billabong. In 1998 the US management team denied the renewal of US licensing rights for Billabong, when the Company had booked to over $70M in sales in America. This was when the Hurley International was born.
Hurley garments includes board shorts, surfer swim trunks, shorts, unique T-shirts, sweatshirts, hats, wet suits, dresses, and other surf style items. Some of their clothing characteristics are frayed denim, torn shirts, and additional details that define surfer style. The company derives a major part of its success from endorsement of pop-punk bands such as Blink-182.
DESIGN ELEMENTS OF THE HURLEY LOGO:
The Hurley logo design is simple yet it looks very professional and effectively conveys the company's business objectives to its customers.
Shape of the Hurley logo:
The Hurley logo comprises of the name of its founder followed by an "H" that is formed by inward and outward parentheses, which is often featured on Hurley's garments and accessories.
Color of the Hurley logo:
The black color in the logo simply signifies the elegance we witness in the Hurley's products.
Font of the Hurley logo:
The use of rounded edges on letters distinctly seems to convey the relaxing and calm feeling people experience using the Hurley's products.