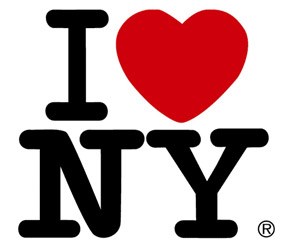 I Love New York, or simply I♥NY, is a timeless expression of patriotism with a hint of subtle romance thrown in for an added measure. This symbol has been printed onto many T-shirts, accessories and decorative memorabilia but its history awaits recognition. Its distinctive, unadulterated appearance is something people have treasured for a long time. Merely enjoying its presence overrides their curiosity regarding its inception. Surprisingly, this logo was initially used as a publicity stunt to lure tourists. In 1977, the Deputy Commissioner of the New York State Department of Commerce, William S. Doyle, was exceedingly confident with the image of New York as a potential tourist destination that he felt this feeling can be institutionalized. During that era, New York had a lot of city vices attached to it. For fear of what the city's grimy underbelly has to offer and more so because of the escalating prices that had gripped New York's economy, tourists shifted their itineraries to the countryside. This logo served as an ambassador for peace and reflected an amiable image of the city that is New York. Thus, Doyle went on the hunt for advertising agencies who could translate this idea into an impulse. Even though New York is the financial hub of the US and there are several agencies waiting to spin magic, Doyle did the unthinkable and roped in a designer Milton Glaser's famous I♥NY rebus monument for his baseline. The logo went on to be a phenomenal chase amongst the younger generation and its trend has inspired a lot of other knockoffs in its league.
DESIGN ELEMENTS OF I LOVE NY LOGO LOGO:
This beautiful, unpretentious and visionary logo has been a symbol of optimism and heartfelt patriotism throughout the United States. I Love NY Logo has been very clearly assembled together in a way that is easily understandable. This particular feature adds a lot of value to its authenticity.
Shape of I Love NY Logo:

The Shape of I Love NY Logo is straightforward and charismatic in its unique way. It does not boast of hardwired designs and intricate artwork. It speaks for every New Yorker, young or old, and lends its viewers a graceful sense of dignity while being casual, and at times, conversational.
Color of I Love NY Logo:
The use of bright red to symbolize the heart amongst the casual black font tries to divert the spectator's attention towards something that is very near to them. Love has no language or borders and it is a timeless expression in itself. Thus, people of different ethnic origins can also identify with it.
Font of I Love NY Logo:
The font of I Love NY Logo is yet again simple and casual. It is not calligraphic nor is it bunched up into a confusing cacophony of letters. It is extremely doable and on-the-move, like every resident of New York. The font lends the essence of everyone that it speaks to and ends up being impressionistic to the corporate class as well. They can employ the use of this logo to connect on an informal level and build healthy interpersonal relationships.