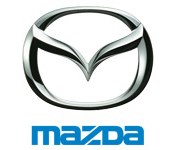 Japanese automotive manufacturer Mazda Motor Corporation or Matsuda Kabushiki-gaisha came into existence in 1920 as the Toyo Cork Kogyo Co. with the efforts of its founder Jujiro Matsuda. It adopted the name "Mazda" in 1984. The company initially was involved into manufacturing of machine tools and later expanded its operations by producing four-wheeled vehicles, gasoline reciprocating engines, diesel and rotary engines, automatic and manual transmissions for vehicles.
The marketing strategy of the company is the phrase "Zoom-Zoom", a campaign that initiated in 2000 to indicate what it calls the "emotion of motion" claimed to be inbuilt in all their cars. The campaign has been extremely successful and has spread out around the world from its initial use in North-America.
The company is known for producing affordable cars that offer a thrilling performance experience to it customers which is an unusual combination today and serves as the company's competitive advantage.
DESIGN ELEMENTS OF THE MAZDA LOGO
Mazda has updated its logo with significant changes in terms of size, resolution, shape and color for five times now with the present one continuing since 1997.
Shape of the Mazda Logo:
The "M" in the Mazda logo is more stylized and takes the shape of stretched wings giving the whole logo a look of an "owl". The wing seems to depict that the company is future oriented and exactly knows where it's directed. The symbol is also said to represent a tulip.
Color of the Mazda Logo:
The use of blue and silver in the logo represents the cool image of Mazda.
Font of the Mazda Logo:
The font used for the Mazda logo today is called "SF Automaton", created by Derek Vogelpohl.
The symbol as a whole expresses the sharp, solid feeling that Mazda will be seeking in all of its products. The dynamic circle symbolizes company's readiness to spread its wings as it enters the 21st century.