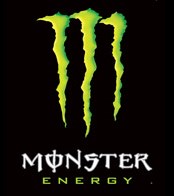 Monster Energy is a brand of energy drink manufactured by Monster Beverage Company in Corona, California, which is owned and operated by Hansen Beverage Company. This energy drink was launched by Hansen Natural in 2002 and is one of the first drinks to be marketed in a 16-fluid ounce (equivalent to 473 ml) – approximately double the size of the typical "ammo" size of energy drinks yet sold at the same price.
In 2005, the company introduced 24-ounce cans of Monster Energy and Lo-Carb Monster. Since then we have seen a number of varieties of drinks in a 32-ounce size with a resalable top. They are conveniently available at most supermarkets and stores in the U.S. and Canada. Like many other drinks its packaging usually has a warning printed on it, restricting the limit of the number of cans consumed per day for the 16-ounce size. In 2007, Hansen initiated a sub-category coffee-energy hybrid line of drinks called Java Monster and a year later also launched additional coffee-energy hybrid flavors.
The brand has many endorsements with the famous sports people including the professional skater Rob Dyrdek, the Formula one drivers Nico Rosberg and Michael Schumacher, the American rally driver; Ricky Carmichael and many others. It also sponsors a motocross race team called "Monster Energy/Pro Circuit/Kawasaki." In 2009 monsters were among the main sponsors of the Sonisphere Festival in Knebworth, UK.
DESIGN ELEMENTS OF THE MONSTER ENERGY LOGO:
The Monster Energy logo is classified as one of the top ten beverage logos because of its distinctive look that sets it apart from any average soft drink. It has been given a monster look in terms of all shape, color and font.
Shape of the Monster Energy logo:
The Monster Energy drink logo consists of a large 'M' that appears to be formed by the claws of a monster.
Color of the Monster Energy logo:
The black in the background adds style to the energy drink logo while the neon green accents depict the liveliness that the people feel after the consumption of Monster energy drink.
Font of the Monster Energy logo:
The font used in the Monster Energy logo is supposedly a custom design. The Monster Energy logo provides instant recognition to the company and attracts a millions of people to actually buy the drink.