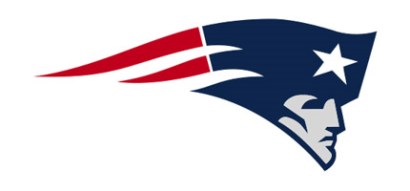 Also familiar by the name of "Pats" among it many football sports fans and journalists, the New England Patriots are a professional American football team, established in 1959 in Great Boston on the American Independence Day, July 4, when the organization's first training camp was opened. The team's name is inspired by Boston's role in the American Revolution. The British football team has achieved a great success in the past decade, winning multiple Super Bowl titles and setting many world records. The patriots were among the ten American Football League (AFL) teams that joined the National Football League (NFL) when the two leagues merged in 1970. The team, which was originally known as the Boston Patriots, changed its name to "New England Patriots" the following year in 1971 when it started playing at then newly built Schaefer Stadium in Foxborough, Massachusetts.
DESIGN ELEMENTS OF THE NEW ENGLAND PATRIOT LOGO:
The original New England Patriots logo (developed by artist Phil Bissell) was that of Pat Patriot, the mascot of the team depicting the image of a New England Revolutionary War militiaman.
Shape of the New England Patriots Logo:

The old New England Patriots logo, as already described, seems to depict the strength and determination of a warrior, whereas the new logo resembles more closely with the American flag.
Color of the New England Patriots Logo:
The primary logo including the military man was in use from 1961-1992. It depicts a patriot in red, white, and blue, who is about to ramble the football. The logo effectively expresses the willpower and motivation of the team.
The new logo launched since 2000, demonstrates a silver patriot with naval blue shadow and hat with red stripes. Not many changes were made to the logo from the one that came in 1993, except that the blue shade is now deeper.