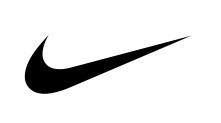 Nike Inc. has proven itself in every corner of the competitive business world. Starting from the athletic shoes to the apparel and accessories, Nike has proven that it rules the sportswear industry. Its powerful logo has had a massive impact in helping establish their strong brand recognition. It's hard to find an individual who does not recognize the Nike logo. For decades, the logo has established a well stable and recognized attitude and still holds the ground strong enough to pursue further.
The Nike logo, also known as the "Swoosh", is an emblem created in 1971 by an outstanding graphic design student at Portland State University, namely Carolyn Davidson. She started as a freelance worker for the company, Blue Ribbon Sports, owned by Phil Knight. Working together they selected the mark now known as the Swoosh worldwide.
The Swoosh symbol, can be described as simple, fluid and fast. These words depict the Nike logo that has successfully grown to be one of the most influential insignia in the world.
Design Elements of Nike Logo:
Nike logo illustrates an imposing image on its spectators through its solid features.
Shape of the Nike Logo:
The Nike logo represents the wing in the renowned statue of the Greek Goddess of victory, Nike, who served as the cause of motivation for the distinguished and audacious warriors. Initially, the mark was regarded as "the strip" but was later named as "Swoosh", which describes the fiber used for the Nike shoes.
Color of the Nike Logo:
Dull orange shade is used for the Nike logo which demonstrates the strong corporate image of Nike Inc. Through years, Nike logo has revolutionized to some extent. Its color had been once transformed to strong black.
Font of the Nike Logo:
The Nike logo also features its identification name, which is inscribed in the simple bold font. The simplicity of the font in Nike logo portrays the brilliant commercial picture of the Nike Inc.
Related blog post(s):
Nike Sues Chinese Firms Over Logo
Bad Fortune for the Fortune 500: Famous Logos totally ****ed up