Nortel Networks Incorporated, formerly known as Northern Telecom Limited, and commonly referred to as Nortel, was a manufacturer of telecommunications and data networking equipment. Nortel has a rich history seeing its origins begin with Alexander Graham Bell.
History and Design Elements of the Nortel Logo
It began in 1895 as The Northern Electric and M.F.G. Co. The Nortel logo was a circle with a map drawn behind it. Across the circle was its name, Northern Electric and M.F.G. Co. Circumscribed were the words "Fire alarms telephone supplies." It was written in black.
In 1950, the Nortel logo became Northern Electric Company Limited. The circle in the Nortel logo became an oblong and the font was made blue. Included were its initials, NE and beside it, it read "A National Electric Service." On the bottom of the oblong its name, Northern Electric Company Limited was written.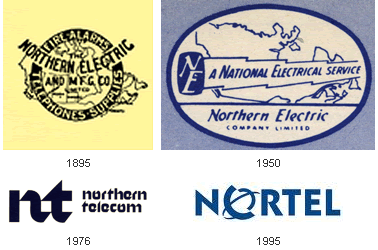 By 1976, the name in the Nortel logo was shortened and simplified to Northern Telecom. Its initials were now NT. 'NT' was written in lower case and beside it was the name Northern Telecom, also written in lower case. The blue font was darkened to a deeper navy.
In 1995, the name in the Nortel logo changed for the very last time and was now known worldwide as Nortel. It combined the first three letters of Northern and Telecom. This time there was no need to use its initials. It was written in all caps, still in blue font. The letter O was made to look like a planet with a ring around it. It was perhaps meant to convey Nortel's main purpose which is to provide telecommunications and networking opportunities across the globe.
In 2009, Nortel had to cease its operations when its affiliated debtors from the US filed voluntary petitions for relief under Chapter 11 of the US Bankruptcy Court. It filed for protection from its creditors in the US, UK, and Canada to give it a chance to restructure its debt as well as its financial obligations. Now, Nortel continues to sell its business units and other assets to other interested parties.