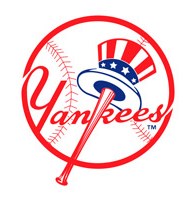 NY-Yankees, based in New York City, are known as one of the American League's eight charter franchises, and have been among the most celebrated teams in American sports for more than a hundred years, helping illustrate the phrase "empire" in professional games. On November 4, 2009, the team won their 27th World Championship against Philadelphia in game six of the World Series. The team was formed in 1901 as the Baltimore Orioles, and in 1903, it was moved to New York City thus named as the New York Highlanders. The team was finally named as "Yankees" in 1913. They are one of two major league franchises that works in New York City- the other one being the New York Mets of the National League.
In 1967 Bob Bundin and Lou Stallman composed a song for the team by the name of "Here Come the Yankees". Another song "New York, New York" is played at the end of each home game in the Frank Sinatra's version following the team's victories or in the Liza Minnelli's original version following the team's losses.
The Yankees have the record of securing twenty-seven World Series in about forty appearances and have gained immense popularity among the other American baseball teams.
Design elements of the NY-Yankees Logo:
The NY cap logo (originally designed by Louis B. Tiffany in 1877, for a medal to be awarded by the New York City Police Department to Officer John McDowell, the first NYC policeman shot in the line of duty) first appeared in 1909 on the uniform of the American baseball team.
The primary logo (the red one) , created in 1947 by sports artist Henry Alonzo Keller, has been changed slightly over the years, first appearing in the 1970s, and continuing up-till now.
Shape and Color of the NY-Yankees Logo:
The NY-Yankees logo shown above is an interlocking "NY" that appears on the players caps, whereas "Yankees" appears against a baseball and bat, outlined in red with the bat forming the vertical line of the K and a red, blue and a white Uncle Sam hat hanging from the barrel.
Font of the NY-Yankees Logo
The cap logo consists of stylized "N" and "Y" giving it a very sporty look. The primary NY-Yankees logo has a very classy look capturing the 100 years history of the team.