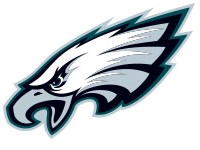 Established in 1933, the Philadelphia Eagles is a well-known Americal football team, whose home stadium is Lincoln Financial Stadium in Philadelphia, Pennsylvania. The team became members of the East Division in the National Football Conference (NFC). This happened after the merger of National Football League (NFL) and American Football League (AFL) in 1970. It was formed, when Philadelphia's representative in the NFL, the Frankford Yellow Jackets, went bankrupt and NFL finally granted the franchise to a syndicate led by Yellow Jackets owners Bert Bell and Lud Wray, for an entry fee of $2,500.
The Eagles struggled over the course of their first decade, continuing recurring losing seasons. Later on, the team secured three NFL titles from 1948 to 1960 and made two Super Bowl appearances, while losing both (in 1980 to the Oakland Raiders and in 2004 to the New England Patriots).
For many years the teams colors were Kelly green, silver and white, however in 1960 both the team's logos and uniforms were modified. Kelly green was changed to "midnight green" which a darker shade of the primary green. Since then, the uniform pants were either midnight green or white.
DESIGN ELEMENTS OF THE PHILADELPHIA EAGLES LOGO:
The Philadelphia Eagles were named after the Blue Eagle. The Blue eagle is a symbol used for the New Deal stimulus programs initiated during the Great Depression. They have used this symbol in their logo as well.
In the past the team's logo featured an eagle carrying a football in its claws, however after many years, it was updated to give the eagle a more realistic look. The team last updated its logo in 1996.
Shape of the Philadelphia Eagles logo:
The Eagle's logo now comprises of only the eagle's head that is designed in a less realistic and a more cartoon-based style. The eagle symbolizes the ingenuity and lofty spirit of the team.
Color of the Philadelphia Eagles logo:
The bald head of the eagle is outlined in dark and light blue and is mainly white in color with a little light blue shading in the neck. The blue and the white represent the team's confidence and integrity.