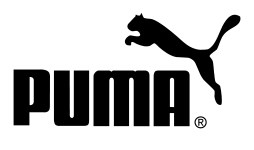 Puma, a German-based multinational company is recognized for producing sophisticated athletic shoes and other sportswear. The leading company is best known for manufacturing soccer shoes. Puma now sponsors around 30 national football teams globally. Furthermore, the organization has sponsored some famous football celebrities including Pelé, Johan Cruijff, Enzo Francescoli, Diego Maradona and Lothar Matthäus. Puma also specializes in fabricating driving shoes and race suits.
Indeed, the company needed a logo design to represent its bold market picture. The first Puma logo was shaped in 1948. The similar Puma logo is still being used worldwide with little amendments in it. It delivers a clear notion of solid corporate position by its emblematic icon and brave typeface.
Design Elements of Puma Logo:
Puma logo grips a notion of strong and chic icon with the help of a leaping animal and bold font. A distinguished impression is immediately cast on the spectator, narrating the kind of image the company possesses.
Shape of Puma Logo:
As discussed earlier, the Puma logo comprises of a courageous representation. A leaping Puma, an animal known as cougar, panther or a mountain lion, is highlighted in the Puma logo. This Puma summarizes the power beast-like nature of the firm and its products. The Puma logo solely enhances the attributes of the firm's reliability and its product's aptitude in the international market.
Color of Puma Logo:
Few innovations have been taking place through the years in Puma logo. However, the identity has been kept quite similar to the first design brought forward for the firm. Currently, the Puma logo is wrapped graciously in black hue which depicts immense supremacy and strength of the firm itself.

Font of Puma Logo:
The complete Puma logo is a sign of authority and confidence. Nevertheless, the typeface of the Puma logo has maintained the same notion throughout its history in the corporate world. The bold font featured in Puma logo projects the firm's stability and prominence.
Related blog post(s): 13 Amazing Animal Logos