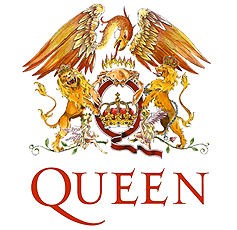 The Queen logo stands for an English rock band formed in 1970. Despite forming identity years back, the band still is recognized and remains famous among the music lovers. Many Hollywood movies of today have included their songs as their soundtracks or presented sections of them in the movies. The examples include Happy Feet, Ice Age, Step Mom, and Cheaper by the Dozen, Chicken Little and many more.
The lead vocalist Freddie Mercury designed the Queen logo for their band considering the zodiac signs of the members. The Queen logo proves to be as classical as the band itself. The band has been an old one since it made its breakthrough, but till today it demonstrates an identity of a legend.
Design Elements of Queen Logo:
The outline of the Queen logo depicts an image of elegance and royalty. This is evident because the whole layout resembles the Royal coat of arms of United Kingdom. The logo thus embodies a sense of belonging and patriotism as well as classiness.
Shape of Queen Logo:
The shape of the Queen logo appears as a pioneer, describing every inch of the band's identity. It symbolizes the zodiac signs of the band members, two lions and two fairies on either side for Leo and Virgo respectively; crowned by a crab for Cancer, appearing at the top of the swirled letter Q, which stands for Queen, the band. The lions in the Queen logo shelter the fairies, and stand elevated. Above the crab lie a chain of flames, looking like a crown and finally the whole of the Queen logo is over shadowed by an eagle spreading its wing wide.
Color of Queen Logo:
Due to the presence of so many motifs, the Queen logo bears many colors. Despite this, mainly the colors featured in Queen logo are shades of yellow and orange, blending with a little of red in the ribbons of the 'Q'. The lions are mustard, fairies are white and the crab appears as metallic bronze.
Fonts of Queen Logo:
Complimenting the fancy layout of the Queen logo, the fonts are also impressive in their design. The fonts in are roman style, slightly bold, having defined curvatures, appearing at the bottom; doing complete justice to the Queen logo.