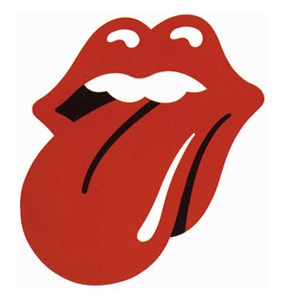 The Rolling Stones is one of the most enduring and well-known rock n' roll bands of all time. The band was formed in 1962 with the joint efforts of the guitarist and harmonica player Brian Jones and the pianist Ian Stewart who were joined by the vocalist Mick Jagger, the guitarist Keith Richards, the bassist Bill Wyman, and the drummer Charlie Watts. The current line-up consists of Ron Wood as the additional guitarist.
The Rolling Stones is classified as the world's most adored touring groups, regularly playing huge sports stadiums, incurring groundbreaking corporate sponsorships, and setting records for ticket prices.
A few of the most well-known songs composed by the band include "Satisfaction", "You Can't Always Get What You Want", "Sympathy for the Devil", "Paint it Black", "Brown Sugar" and "Gimme Shelter".
DESIGN ELEMENTS OF THE ROLLING STONES LOGO:
The big red mouth Rolling Stones logo, also known as the "Tongue and Lip Design", dates back to 1970, and was created by the British graphic designer John Pasche.
Shape of the Rolling Stones Logo:
The Rolling Stones logo actually represents the intense and rebellious mouth of Mick Jagger. The tongue is basically an indication to the Hindu goddess Kali, goddess of everlasting energy, and signifies the use of free expression in their music. The Rolling Stones logo is unique, mirthful, and beautifully brings out the emotion we experience listening to their music.
Color of the Rolling Stones Logo:

The red color to the whole mouth gives it sensuous and a sort of insolent look, depicting the passion and vitality that lies in the Rolling Stones compositions.
Font of the Rolling Stones Logo:
The band has mostly used no font in their logo as the mouth itself wonderfully conveys the message it has intended to deliver.
The Rolling Stones logo is very eye-catching and has gained extremely popularity all over the world. Hence we can classify it among the most instantly recognized logos ever created.