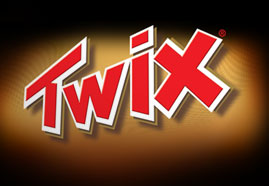 Most people are familiar with the Twix Chocolate bars–who wouldn't be? It is made of three delicious ingredients that people are naturally drawn to. Read on for a quick overview of Twix bars and a history of the Twix logo.
Twix bars begin as biscuits that are coated with caramel and dipped in chocolate. Cookies, caramel, and chocolate are the three C's that babies, kids, and adults can never get enough of. These three elements are what make Twix an international success.
Twix was first produced in 1967 the UK before it was introduced to the US twelve years later. From that time on until 1991, it was known to European countries as Raider. In order to make the product match the international brand name, they decided to change the name to Twix.
Design Elements of the Twix Logo
Twix is a chocolate bar made by Mars Inc. They are packaged in pairs and that is probably how its name came about. It has many variations available worldwide but it remains the same biscuit coated with caramel and covered in chocolate.
History of the Twix Logo
Its first Twix logo, which came out in 1979, had the words "Twin bar" attached to the letter "X". It was written in italics with a bold red serif font that was heavily outlined in black. Sometime in the 80's, 'Twin bar' was removed and the black outline got thinner in the Twix logo. It also had the trademark Twix logo plastered next to it. In the 90's the logo evolved again and this time there was a white outline that is within the black outline. By this time, TWIX had been a registered trademark.
It was during the late 90's when they changed the font of the Twix logo to a sans serif font but the white and black outlines were still present. The year 2010 was when the Twix logo went through a completely new revamp. What was once italicized was tilted to an angle going to the right and has a brown background. The outline was a thick white one and the black outline was made a shadow. The Twix logo may have evolved but they still provide the same, delicious treat that people around the world still patronize to this day.