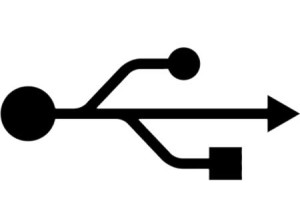 The Universal Serial Bus (USB) is a technology that allows users to connect electronic devices to a computer. It is an instant connection to the limitless possibilities of computer technology. It connects different devices if one has a standard interface. In this article, we'll take a look at what this technology enables as well as analyze the design elements in the USB logo.
Many people use USB for keyboards, printers, scanners, computer mice, digital cameras and the like. As of the year 2012, there are more than one billion USB devices available around the world. The standard USB was made in order to improve the plug and play capabilities of certain devices. With this, the device can be plugged into a socket. The computers are already programmed to recognize the attached USB, if there is any. There are instances that the computer would install special software so that users can directly use the device and when it is no longer in use, it automatically disconnects. This is known as "hot swapping", which means that it can be plugged and unplugged as long as the power is still on.
Design Elements of the USB Logo
For science lovers, this kind of topic will be such an interesting topic to talk about. Some are very fascinated with how the USB works and what the USB logo really means. These questions would probably be difficult to answer for most people. Fortunately, its meaning has already been unmasked.
Trident in the USB Logo
The USB logo was said to be modeled to mimic the trident of Neptune, the mighty Dreizack. Although the trident before may symbolize power and authority, the USB trident is more commonly attributed to the technological 'power' one can get from attaching the USB to the computers and other devices.
Shapes in the USB Logo
The shapes at the tip of the three-pronged spear (triangle, square and circle) in the USB logo are placed there to signify all the various peripherals that can be attached if the standard devices are used. It also denotes how interconnected the world has become, thanks to the technological innovations that the USB has imparted.